Most of the people when they open shopping site online focus on a variety of things and they are the color scheme, name of the brand and a trendy home page so that it is eye catchy to others. But in reality people who come to shop, do not actually look at the layout of the site. They come in search of quality product which can make their investment worthy. Thus, you must create brand awareness for your product but being trendy is not that important as merchandising.
Many people might come to your eCommerce site, look at the products, get an idea and leave without shopping but the good experience that they gathered because of your proper merchandising will help them understand the product. This will surely improve the impression and ranking of your site.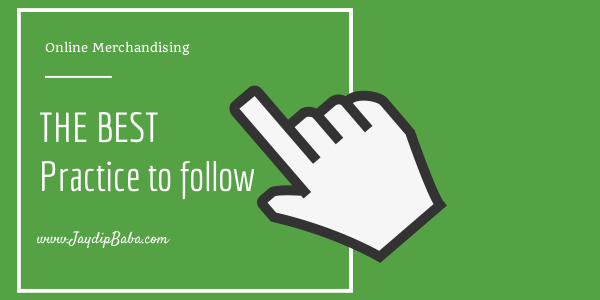 In short, merchandising means organizing products in such a way that the user can find whatever they want easily. They must also be able to decide quickly if they want to buy it or not. Here are some tools and tactics to improve online merchandising.
Information
Every product in your online store must have all the basic information which includes its price, image, availability of color and size and also description emphasizing the material used, comfort level, and manufacturer's detail. This information will not only help the customer, but it will also improve the site's ranking in the search engine.
Category
Products should be divided into category and sub-categories. Under a category you can place products that are similar but how you present it plays a vital role in the merchandising. Here you can use breadcrumbs in effective way, which will help you to pass correct information to Google
Your shopping site should have a home page, product category and sub category page, search option so that users can specify and look whatever they want, a page with product details and a shopping cart. You should also have a product description page to help customers know about the product. You can also have a section where they can put their queries. All these pages must be easily navigable and user friendly.
Review
Most of the shoppers buy product when they know other buyers views. Great comments and rating create a good impression about your site to other customers. You must have a rating and review page in your shopping site. In addition to this you can use Reviews Rich snippets.
Offers / Discounts
You can also come up with ideas where customers can save money and notify them through pop-ups. Discounts, free shipping or even coupon code helps in increasing the views and revenue of the site.
Pricing
Proper pricing is very important to make profit out of the shopping site. People always look for good and cheap products. When you mention the price of the product in your store make sure to mention the market price also. This will enable the customers calculate and understand their saving when shopped from your site.
Focus on Branding
Create brand awareness for your product with the help of social media networks. Initially you can ask your friends and family to like and share your site. Customers trust in your brand will also increase with the number of likes available on your website. Also you should avoid common SEO mistakes.
Did I missing any other things? Add it as comments as well as share your Idea about Ecommerce.