In recent times, there has been an unexpected increase in digital marketing as every online business wishes to make themselves as prominent as possible for attracting a higher number of audiences or customers. Digital marketing can be thought of as a platform that helps various businesses in reaching their specific goals of generating profits.

It was 2008 when digital marketing started flourishing, and a group of SEO experts and IT professionals thought of working towards a goal of making the online competition as fair and transparent as possible for providing equal opportunities to each individual through founding a startup 'Semrush'.
About SEMrush
It is SaaS platforms that mainly indulge in online visibility management and content marketing to ensure businesses getting results that can be computed for online marketing. They provide insights and solutions to various industries for building, managing, and measuring campaigns for overall marketing channels.

Today after eleven years of continuous experimentation and success, they have become the world's leading competitive research service for online marketing. A small initiative that started off as a startup is now one of the leading international companies and is trusted by more than 4,000,000 marketing professionals.

With a total of whooping 650 employees in 4 countries, they are working towards making the best competitive intelligence solution covering all the areas of marketing. Besides, they believe in learning new stuff every day themselves while working on something new.
This particular habit is the reason behind them being acceptable towards contemporary ideas, suggestions, and experimentation. While attending a conference, you can find them enthusiastically participating in many international events and conferences be it large or small!
Online marketing is not an easy task to perform, that is where SEMrush takes over to ease this task with their effective marketing tools that were earlier used as an in-house toolkit for their marketing operations. Since then, they have been putting all their knowledge and experience towards making a competent service that can be enjoyed by all the online marketing specialists around the world.
SEMrush Marketing Show
Rejoice all digital marketers! SEMrush is coming up with a marketing show at Sheraton Grand Bengaluru Whitefield on 5th December 2019. This marketing show will be graced by leading professionals from marketing industries all around the world.

It will be filled with full-day workshops, award-winning case studies, growth marketing strategies, innovation, and key learnings in SEO, Online Ads, and content.
This workshop will be 7 hours long having four stages with 40 speakers and 2000 attendees providing better insights, inspiration, with actionable learning leading to connection building.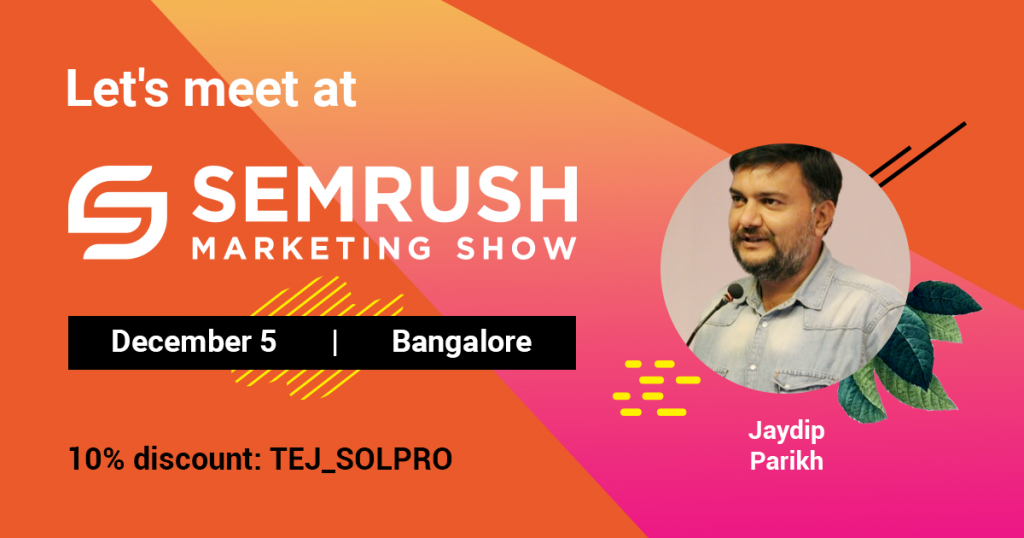 Reasons to attend the SEMrush Marketing Show
If you're still skeptical about attending this marketing show after reading all the information above, we provide you with five reasons to not give this amazing show a miss!
Here, you'll be able to gain insightful advice and knowledge from the marketing maestros. Every session is going to be led by leaders/ marketers from the industry who themselves have made growth marketing strategies and provided the best positive results for well-established brands.
You might be already known to the world of digital marketing (strategic planning, SEO, SEM, SMM), keeping that in mind, the presentations to be made here will enrich your existing knowledge with intricate details that will provide information to work on further.
There will be an ultimate chance of improving your Ads and Analytics skills with the advanced workshops designed by audience owners.
It will be a huge opportunity for networking with the speakers and peers at the event while also getting a chance to attend the after-hour events as well.
This marketing show is programmed by the team of SEMrush, including their Marketers, Developers, and in-house experts. It can be one of the smartest investments of your whole career.
Wrapping Up
While wrapping up, we'll suggest you to not miss this fantastic opportunity of meeting the best people from the digital marketing industry for better insights and advice.